P4PS and P4PS Executive Leaders work with other organizations in a variety of formal and informal ways to advance patient-centered, systems-based care.

P4PS is partnering with Transparent Learning to promote "The Faces of Medical Error... From Tears to Transparency" video series. This two-part, award-winning series produced by Transparent Health®, puts a face on medical error in a way that caregivers, hospital administrators, risk managers, educators, policymakers and consumers can all relate to on an emotional level--the key to behavior change. The series addresses learning from medical error as well as the importance of transparency in dealing with error when it occurs, and is designed to supplement any patient safety awareness or education program. The series consists of two videos:
• The Story of Lewis Blackman, and
• The Story of Michael Skolnik
View video clips and order the DVD by visiting Transparent Learning .
The pay-per-view option affords you the same quality viewing experience as our DVD product. As a bonus, you and your organization are contributing to a more sustainable future by eliminating costs associated with shipping and packaging.
Based on the needs of the audience, the PPV option can be extremely practical and cost-effective. It lets hospitals and other healthcare providers:
• Offer viewings to some or all members of their team on demand,
anywhere and at any time;
• Watch it immediately after placing the order, with no waiting for a DVD to be shipped;
• Instantly access the video in locations without a DVD player; control the video easily
with play, pause, stop, fast forward and rewind functions; and
• Stop the video and pick it up again at any time, up to one year later.
• Order the Pay-Per-View film


Consumers Advancing Patient Safety (CAPS) is a consumer-led nonprofit organization formed to be a collective voice for individuals, families and healers who wish to prevent harm in healthcare encounters through partnership and collaboration. CAPS is committed to exploring and contributing the wisdom and experience that consumers can offer to patient safety research, education of both consumers and providers, reporting of bad outcomes and near misses, development and implementation of solutions that can prevent harm, and policy making that will help create healthcare systems that are safe, compassionate and just.
p4ps secured the grant funding to establish CAPS in 2003 and continues to actively assist in building CAPS.
Read CAPS Mission, Vision and Goals


The World Health Organization's World Alliance for Patient Safety represents a major opportunity to put the patient and the consumer at the center of the international movement to improve patient safety. Patients for Patient Safety (PFPS), one of ten action areas of the World Alliance, is designed to ensure that the perspective of patients and families, consumers and citizens – whichever term resonates best - is a central reference point in shaping this important work.
P4PS leadership serves on the Steering Group of PFPS and contributes to developing its global network through facilitation of regional workshops.
Read the PFPS Statement of Case
Read an article about PFPS formational workshop
Martin Hatlie also serves as an ex officio participant in the World Alliance's efforts to develop an International Patient Safety Event Classification, which aims to define, harmonize and group patient safety concepts into an internationally agreed classification. This will help elicit, capture and analyze factors relevant to patient safety in a manner conducive to learning and system improvement.


The Patient Safety Education Project (PSEP) combines two high-quality models to advance a national and international patient safety education-dissemination agenda. First, the U.S. developed a high-impact, conference-based education dissemination project. Using a curriculum driven, train-the-trainer approach grounded in adult learning theory and embedded into social structures to facilitate behavior change, the model has been evaluated and found to be unprecedented successful. This model will be used for dissemination. This model has been used successfully for the Education in Palliative and End-of-life Care (EPEC) Project.
Second, Australia created a national consensus framework for patient safety from which diverse groups could create teaching materials for all levels of health care workers. This framework will be used as a starting point to define core patient safety content. In addition, PSEP collaborates with many patient safety groups throughout the United States, Australia, and beyond, and rather than recreate them, will draw on their excellent contributed materials whenever possible to create a consensus-based Core Safety Curriculum. This Core Safety Curriculum will drive the dissemination of patient safety practices.
P4PS is a partner in the development of PSEP.


Parents of Infants and Children with Kernicterus (PICK) was developed in 2000 by a group of mothers of children with severe cerebral palsy resulting from kernicterus, a condition caused by excessive bilirubin levels in newborns. PICK promotes awareness, prevention and treatment of kernicterus. The organization's success is due to a unique operational model that emphasizes active partnerships with healthcare institutions and agencies as a means of achieving change.
p4ps assisted PICK in developing a video that tells PICK's story of collaboration, and continues to be active in building the organization.
Read an article about PICK's consumer education campaign


Coalition for Quality and Patient Safety of Chicagoland (CQPS)
In early 2009, the name of Chicago Patient Safety Forum was formally changed to the Coalition for Quality and Patient Safety of Chicagoland (CQPS).
CQPS Mission:
To mobilize the diverse healthcare stakeholders in metropolitan Chicago to provide the best possible care to every patient every time by eliminating preventable harm and implementing systemic change to ensure consistent excellence.
CQPS Goals
•Identify known, evidence-based best practices which can be broadly implemented. The core purpose is to improve care through knowledge transfer, not to develop new knowledge.
•Stimulate and drive collaboration, research, or pilot studies to develop new knowledge or expand on what is known when recognized best-practices are inadequate for high-priority safety or quality issues.
•Focus on measurably improving care through partnerships among consumers, providers, payers and other stakeholders (i.e. government, employers, etc).
•Commit to transparency of process and outcome both locally and nationally: share what we have learned.
Member commitment
Our members are healthcare professionals, patients and patient
advocates committed to:
•Reducing preventable medical errors
•Avoiding repeating those errors
•Improving the quality of healthcare
•Never stop learning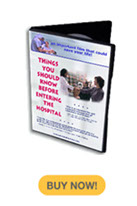 Chicago-based filmmaker, Four Leaf Enterprises, Inc., produced Things You Should Know Before Entering the Hospital, after a principal of that organization contracted a serious staph infection in a physician's office. His experience prompted Four Leaf Enterprises to locate other patients who had experienced medical error and capture their perspectives and error prevention advice.
p4ps published a facilitator's guide for healthcare providers to using the consumer education film 'Things You Should Know Before Entering the Hospital'. The facilitator's guide is designed for use in education sessions with healthcare students and workers, a secondary audience for the film.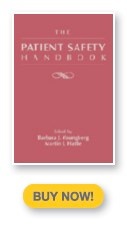 The Patient Safety Handbook
Introducing The Patient Safety Handbook, providing multiple perspectives on a patient-centered, systems approach to patient safety
Editors: Barbara J. Youngberg, JD, BSN, MSW, Vice President, University HealthSystem Consortium, Inc. & Martin J. Hatlie, JD, President, Partnership for Patient Safety
ISBN: 0763731471
Price: $99.95 (U.S. List)
Cover: Cloth
Pages: 779
Copyright: 2004
The Patient Safety Handbook is a remarkable resource for students of patient safety. Eloquently introduced by Mildred K. Lehman, mother of Boston Globe Reporter Betsy Lehman, who died as the result of a systems failure, The Patient Safety Handbook's forty-nine chapters present diverse perspectives by international experts on the ethical, leadership and managerial challenges now faced by the patient safety community. In addition, it explores highly relevant lessons learned from commercial aviation, nuclear power and other sectors that are ahead of healthcare in adopting systemic strategies for managing the risk of human injury.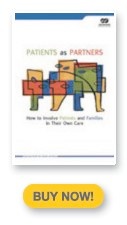 Patients as Partners: How to Involve Patients and Families in Their Own Care
As the patient's role as part of the health care team continues to expand and grow, patient and family involvement is more important than ever to achieve safe and error-free patient care. Patients as Partners teaches health care workers how to create a culture of safety that accepts patients/families as part of the health care team, as well as how to:
•Open the lines of communication between them
and their patients/caregivers families
•Create patient/family education programs that teach patients how to be involved and how to recognize errors pertaining to medication, hand hygiene, wrong-site surgery, correct patient identification, and more
• Evaluate each patient's level of health literacy regardless of what language they speak or their reading level
•Address the education and involvement needs for special patient populations,
such as pediatric, geriatric, chronic, and limited English-speaking patients
•This publication also compiles many examples of what other organizations are doing to achieve, facilitate, or promote patient/family involvement in their own organization.
Partnership for Patient Safety® - 405 N. Wabash Ave., Suite P2W, Chicago, IL 60611
Copyright 2003-2015 P4PS Ltd.©